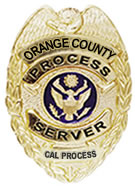 Cal Process is owned and operated by a family of professional process servers that have been serving Orange County for over 20 years. Unlike many other firms advertising service of process in Orange County WE ARE IN ORANGE COUNTY.
We are familiar with all aspects of process serving, including handling complex cases from other States and overseas. Over the years we have handled 10's of thousands of cases successfully. We answer our phone and respond to all status requests immediately.
Chances are when you call us you will be talking with the process server that will be working your case. We are not a process serving mill, we are a family owned business that relies primarily on referrals.
Unlike many process serving companies we gladly accept work from individuals who are not in the legal profession and we do not not charge extra for non-attorneys.
We are Bonded and Registered pursuant to California law and we never employ inexperienced or unlicensed process servers.