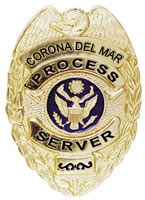 Our California registered process servers have been serving court cases in Corona Del Mar, California on a regular basis for over 20 years. Unlike many of the process serving companies advertising their services in Orange County we are located here and can get your legal documents served in a timely manner.
Need your court papers served same day? Our process servers can attempt service on your case the same-day it is received. Please call for rates. We are bonded civil and small claims process servers.
We are a family owned and operated process serving company that serves papers 7 days a week 24 hours a day. Once service has been completed your proff of service/affidavit is promptly completed and returned to you.
Cal Process is experienced in serving all legal documents: summons & complaint, subpoenas, bank levies, wage attachments, small claims cases, unlawful detainers (eviction proceedings), notices to pay or quit, restraining orders and more. We we work for: individuals, attorneys, small companies, corporations and government agencies.
Submitting a case for service is as easy as filling out our service request form which can be submitted electronically (you can upload your documents with the form) or the form can be printed out and faxed in along with your case.
Do you have a court judgment that you need collected? We are experts in handling post judgment recovery. Give us a call for a free consultation.
In the event the defendant or subject has moved from their Corona Del Mar address our process server will make every effort on site to locate a new address including contacting homes/units next to the defendant's address.

FLAT RATES. NO MILEAGE FEE. NO SURPRISE CHARGES.