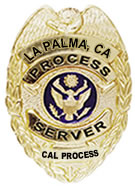 Simply put. We work hard, we are experienced and we are dependable. We are local process servers who will handle your La Palma California service request in a timely and professional manner that will most likely exceed your expectations.
Our process servers have been serving civil and small claims court cases in La Palma for over 20 years.
Cal Process performs service of process for individuals, law firms, non-profits, small businesses, corporations and government agencies.
We do not charge individuals or sole law practitioners a higher rate!
Services we provide:

Process serving in La Palma and all cities in Orange County California.

Same day, Rush and Routine service Countywide and Statewide.

Bank levy (we'll obtain the writ, open the account with Sheriff and serve the bank).

Wage attachment (we'll obtain the writ, open the account with the Sheriff and
serve the employer).

Judgment enforcement / recovery services for both civil and small claims judgments. Call
us for a free consultation on collecting any court judgment.

Skip tracing services available Nationwide (in the event an address is no longer good).

Stakeout service available for extremely evasive defendants.
Cal Process exists because our founders saw a need long ago for a fast, friendly and efficient Process Server company in Orange County California.
We strive to make this part of your litigation experience as easy and painless as possible. When you send an email, or call our office we will be able to tell you what EXACTLY happened with your paper, or what is occurring now with your paper.
Every case we receive goes out for service with a process server the same day it is received - once service has been completed your proof of service is prepared and returned to you in a timely fashion.
Skip tracing services: In the event the defendant or subject being served has moved from the address you provided in La Palma we will make every effort on site to locate a new address and serve the defendant ASAP. If a new address cannot be located on-site we offer Nationwide skip-tracing services.
We also provide additional Statewide and Nationwide service through an extensive network of process servers we have developed over the years. Cal Process is a one-stop shop for all of your process server needs.

FLAT RATES. NO MILEAGE FEE