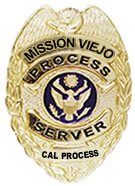 We are fully licensed & bonded process servers providing fast service of all legal documents in Mission Viejo, CA. We serve civil and small claims cases 7 days a week and we do not charge individuals or sole practitioners a higher rate. We also work for small businesses, finance companies and large corporations.
Call now for a free quote: 1-949-295-8028. We are available 24/7 and we offer Same Day service of process to all addresses in Mission Viejo and Orange County.
Our Mission Viejo process servers strive to make this part of your litigation experience as easy and painless as possible. When you send an email, or call our office we will be able to tell you EXACTLY what happened with your paper, or what is occurring now with service of your legal documents.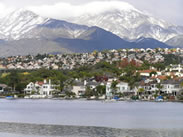 Types of documents we serve include: summons & complaint, plaintiff's claim and order to defendant (small claims), order for appearance judgment debtor, personal subpoena, deposition subpoena, wage attachment, bank levy, pleadings, discovery, unlawful detainer (eviction), 3 day and 30 day landlord / tenant notices, temporary restraining order (TRO) and more.
Judgment collection, enforcement and recovery services: our founder and lead process server is a Mission Viejo process server with over 25 years of experience assisting lawyers, finance companies and individuals with collecting their judgments in Orange County California. In the majority of cases we can serve a levy on bank accounts the same day, this includes opening up the file with the Sheriff's office and proper notification to the defendant.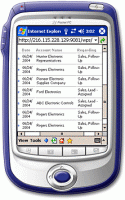 Once your case has been served the proof of service / affidavit will completed and returned to you without delay. At Cal Process we use the latest version of "Process Servers Toolbox", a high end Web/PDA enabled software program for tracking and processing all of our cases. No matter what court your case was filed in you can feel confident we will complete the proof of service according to that court's requirements. We can also file the proof of service with the court if needed.
Skip tracing services: in the event one of our Mission Viejo process servers find the defendant has moved from their address or if you don't have a current address for service of process we can conduct a nationwide search for a new address and attempt service no matter where the defendant has relocated to.
Getting started with us is as easy as filling out one of our service request forms. For your convenience the forms are available in one of two formats:
1) Online service request form with document upload feature (once completed you simply hit the
submit button and we instantly receive your request).
2) Service request form in PDF format that can be filled out online, printed and faxed in.
Cal Process accepts all major credit cards and unlike most process servers we can also accept checks by fax! Credit cards can be taken over the phone or if you prefer faxing in your credit card information you can use one of our credit card forms (click here for PDF format or click here for Word format)
We also provide additional Statewide and Nationwide service of process through an extensive network of process servers we have developed over the years.
FLAT RATES. NO MILEAGE FEE. NO HIDDEN FEES.