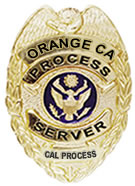 Cal Process is Bonded & Registered with the County of Orange for service Statewide in California. Our Orange, CA process servers have been serving legal papers in the City of Orange and surrounding areas for over 20 years.
We provide service of legal process for ALL documents including: summons & complaint, subpoena, bank levy, wage attachment, small claims case, unlawful detainer (eviction), notice to pay or quit, restraining orders and more. Our clients include: individuals, attorneys, small business, large corporations and government agencies.
CAL PROCESS OFFERS SAME-DAY SERVICE to most locations in Orange and Orange County. Call for rates. Special arrangements can also be made for serving a defendant, witness or subject on a specific date and time at a specific location anywhere in the State.
We also have years of experience working closely with law firms and individuals in the field of judgment recovery & collections. If you have a judgment that needs to be collected please contact our office for a free quote on our services.
In the event the defendant or subject being served has moved from their Orange address we will make every effort on site to locate a new address. We also provide additional Statewide and Nationwide skip tracing services and service of process anywhere in California or Nationwide.

FLAT RATES. NO MILEAGE FEE