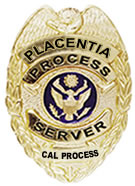 Cal Process is a family owned and operated process serving company only minutes away from all addresses in Placentia. We serve both civil and small claims court documents including summons & complaints, subpoenas, bank levies, wage attachment, restraining orders, unlawful detainers (evictions), 3 and 30 day notices, plaintiff's claim and order, order for appearance and more.
Call us if you need a process server in Placentia, most often you will remain in direct contact with the process server serving your case (we are not a process serving mill). Your case will go out for service the day it is received by our
office. Once your case has been served the proof of service will be completed
immediately and either returned to you or filed with the court if requested.
We have been serving legal cases in Placentia for over 20 years and we accept work from individuals, attorneys, large law firms, corporations, small businesses, non-profit entities and government agencies. We also offer local and Nationwide skip tracing services in the event you don't have an address for service of process. In addition, We also serve cases Statewide and Nationwide on a regular basis. We are a one-stop shop for all of your process serving needs.
In we find the defendant or subject being served has moved from their Placentia address we will make every effort on site to locate a new address. This includes talking to neighbors, property managers, etc. We also serve cases anywhere in California or Nationwide. We are a one-stop shop for all of your process serving needs.
SAME-DAY SERVICE OF PROCESS is available to most locations in Placentia and Orange County. Call for rates.

FLAT RATES. NO MILEAGE FEE