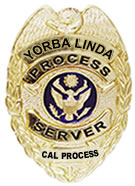 Cal Process is a family owned and operated process serving company that serves papers 7 days a week. Unlike other process serving companies advertising their services in Orange County we are bonded and registered in the County of Orange and serve legal cases here daily.
We do not charge non-attorneys a higher rate and we never charge for mileage. Our firm believes in giving everyone the same great service at the same low rates. Our clients include: individuals, law firms, small businesses, large corporations and government agencies.
We have over 25 years of experience serving the following documents: summons & complaint, subpoena, bank levy, wage attachment, small claims case, unlawful detainer (eviction), notice to pay or quit, restraining orders and more.
Submitting a case for service is as easy as filling out our service request form which can be submitted electronically (you can upload your documents with the form) or the form can be printed out and faxed in along with your case. Once service has been completed the proof of service (affidavit) will be returned to you without delay.
If you have a judgment that needs to be collected please contact our office for a free quote on our services. We routinely work with law firms and individuals in the collection of judgments and bad debt. Working on Landlord - Tenant cases for large property management firms have been one of our specialties.
In the event the defendant or subject being served has moved from their Yorba Linda address we will make every effort on site to locate a new address including contacting neighbors, apartment managers, etc. We also provide additional Statewide and Nationwide skip tracing services and service of process anywhere in California or Nationwide.

FLAT RATES. NO MILEAGE FEE