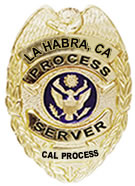 Cal Process serves legal cases in La Habra for individuals, attorneys, finance companies, small businesses, corporations and large law firms. Cases can be served on a Same Day basis if required - please call for rates.
We serve civil, small claims and landlord-tenant notices 7 days a week in La Habra. We also offer skip tracing, judgment collection and enforcement, court services and rush service on all bank levies and wage attachments.
We do not charge individuals or sole practitioners a higher rate. All of our clients pay the same low flat rate for service of process. You can also be assured that the Process Server that represents you will be professional, discreet, and fully aware of and in compliance with the law.
Call now for a free quote: 1-949-295-8028. We offer fast service at flat rates with no hidden fees. With Cal Process you'll know up front exactly how much it will cost getting your papers served In La Habra.

We also provide additional Statewide and Nationwide service of process through an extensive network of process servers we have developed over the years.

FLAT RATES. NO MILEAGE FEE