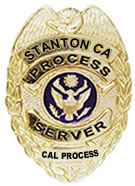 Cal Process is a family owned and operated process serving company that has been serving legal documents in Stanton and all of Orange County for over 20 years. We also have a long established network of process servers throughout the State of California in the event you need service outside of Stanton or Orange County.
Sending us your documents for service is quick and easy. Simply fill out our online service request form and upload your documents with the form or you can print out the form and fax it in along with your case. We will call to confirm receipt of your case the minute it is received.
Cal Process accepts all major credit cards and we have the ability to take checks by fax.
We do not charge non-attorneys a higher rate and we never charge for mileage. We believe in giving everyone the same great service at the same low rates. Our clientele includes: individuals, law firms, small businesses, large corporations and government agencies.
We routinely serve the following documents in Stanton: summons & complaint, subpoena, bank levy, wage attachment, small claims case, unlawful detainer (eviction), notice to pay or quit, restraining orders, correspondence and more.
If you have a judgment that needs to be collected please contact our office for a free quote on our services. We are available to work with law firms and individuals in the collection of judgments and bad debt.
In the event the defendant or subject being served has moved from their Stanton address we will make every effort on site to locate a new address including contacting neighbors, apartment managers, etc. We also provide additional Statewide and Nationwide skip tracing services and service of process anywhere in California or Nationwide.

FAST PROFESSIONAL PROCESS SERVERS